Software Consulting
Interactive web & mobile development
Boost your business with our expertise in interactive web application, backend & mobile app development.
Expertise
Elixir
Extensive expertise in Elixir development, having built multiple production applications with the Phoenix Framework.
Typescript
We're fully proficient in modern Typescript and can develop and maintain production quality web frontends with it.
Haskell
Got something more challenging? We love Haskell and use it to build top quality production applications.
Past Projects
Comcom
Comcom was a real-time discussion platform for news sites. It was deployed on one of the largest Finnish news sites.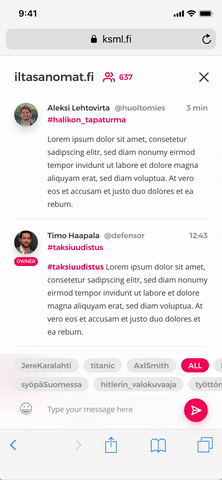 Ready to grow your business?
Contact us for a quote for building your idea.